1,Product Description:

ELTcell Geocell is a lightweight and flexible three-dimensional,expandable panels made from high-density polyethylene(HDPE)
strips which are ultrasonically bonded together to form an extremely strong configuration.Geocell system can be filled with a wide
range of material: aggregate,concrete,sand,soil,etc.
P
r
od
Smooth Textured Perforated Plastic HDPE Geocell for Retaining Wal
Introduction:geocell is high strength thermoplasticity sheet material,formed a net cell struction after being welded.It can stretch and shrink freely,can be folded when in transportation,stetch to allow soil,sand or concrete to be filled in when in use.As a result,it can form a structure,which has high strength in side limit force and stiffness.It can be used as underlayer to improve soft soil bearing ability,can also be layed in slope for protection and support structure.
Specifications: TGLG5,TGLG8,TGLG10,TGLG15,TGLG20(cm)
Properties:It is special geosynthetic material.It can be used in highway roadbed,slope protection,retaining wall,the outstanding property is to solve problems in stone project,such as bridge car,soft foundation dedimentation,frost boiling,landslide.It is light,anti-wear and tear,anti-aging,anti-checmicals,big temperature range,high tensile strength,stiffness,anti-impact,stable dimension and easy to transport.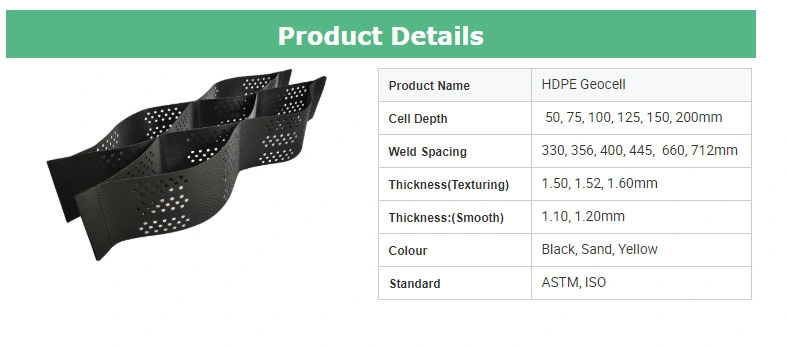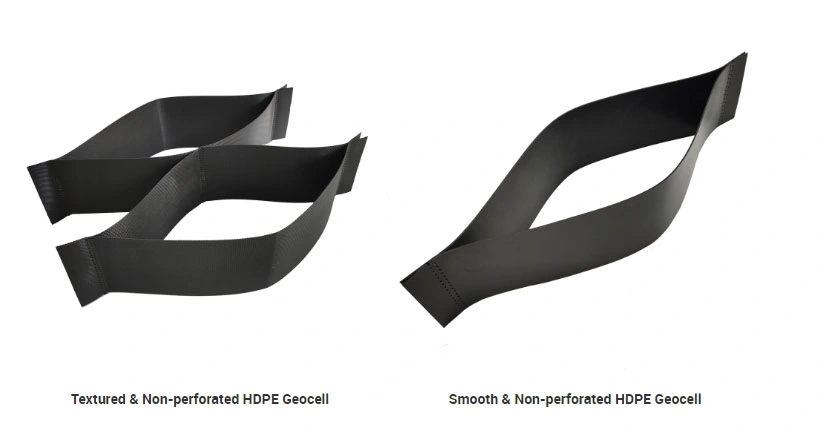 Manufacturing Technique
Product Type

Height (mm)

Sheet Thickness(mm)

Welding Distance(mm)

Peel strength of welding point(N/CM)

Smooth and Not Perforated

50~300

1.0~1.2

330~1000

1000N/10CM

Smooth and perforated

50~300

1.0~1.2

Textured and Not Perforated

50~300

1.5~1.7

Textured and Perforated

50~300

1.5~1.7

Remarks:1.This is a basic technical specificatioon.

2.We can be made according to the customers demands.
Geocell is a net-shaped cell structure made from high density polyethylene by welding high intensity thermoplastic sheet, it is flesible to fold during transportation, stretching out and being filled with stone or concrete during service, and fourming into structure with powerful lateral confinement and rigidity.